Owner Info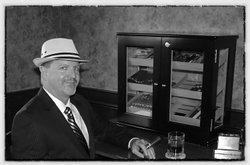 David Birdsall brings an intriguing perspective to life, liberty, and the pursuit of happiness. He has traveled extensively and lived in several culturally unique countries. A Michigan native, he also lived in McAllen, Texas and studied Spanish before moving to Quito, Ecuador and Bonaire. During these adventures he traveled with his three children.
David was born in Livonia, Michigan on May 3, 1957 to A. Kenneth Birdsall and Elizabeth Birdsall. He went to Bentley High School, his father's alma mater. While attending Taylor University and then Spring Arbor University, David continued to work at the family business, Birdsall Tool & Gage.
Sensing a call for change, he took time off from the family business while raising three children to do something more purpose-driven. He enrolled at Columbia Theological Seminary for a year of Masters level Study in Columbia, South Carolina. After another year studying Spanish, David then spent three years working with HCJB Radio and Trans World Radio. His mission was to establish www.alas.org to send radio programming via satellite to Latin America.
David's book, "Kid's….. This One is for You", is available at www.davidbirdsall.com.
"Kids… This One is For You!" is a life lesson book for all ages. It is filled with advice and short anecdotal stories that will intrigue you and also give you a sneak peak into the random thoughts of an organized man. David Birdsall encourages honesty in the communication process between all ages and emphasizes the richness of our past and the potential of our future.